Apprenticeships - Industry Led Seminars 2018
Apprenticeships - Industry Led Seminars 2018
5 October 2018 (by admin)
Graham Cooper, Agfa Graphics, along with Unilever and Daletech with representatives from the Leeds Apprentice Hub will be speaking at the Apprentice Industry Led Seminar.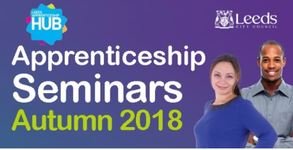 If you want to know more about apprenticeships then these are the most important events you could attend!
Listen to major employers in the city talk about their apprenticeship programmes and the opportunities they offer, be inspired by the range and level of vacancies available.
•Find out about opportunities in a range of employment sectors, the route ways in, the skills needed and the progression afterwards
•Find out about the new apprenticeship programmes including Degree Apprenticeships and Masters qualifications at University
•Listen to apprentices talk about their experiences of gaining qualifications at all levels whilst earning a salary and without incurring debt
Please note: - Places are limited so please book early to avoid disappointment.
There are nine seminars taking place between Monday 8th October & Tuesday 27th November 2018, at the Leeds Beckett University Rose Bowl Lecture Theatres. Seminars will start at 6.30pm and run until 8.00pm.